tl;dr version: cults seem to breed scepticism out of people. I'm trying to get it back.
Long, boring version: The sixties. I can't even imagine what it must have been like in California.
The Hare Krishnas started like so many other cults. Some Indian guy who used to have a business in pharmaceuticals comes to America with the plan to 'spread Krishna consciousness'. He meets some other Indians and asks them for money, they take him more or less serious, they've heard it all before – plus he is really quite insular with his Bengali background. And not actually that charismatic or clever.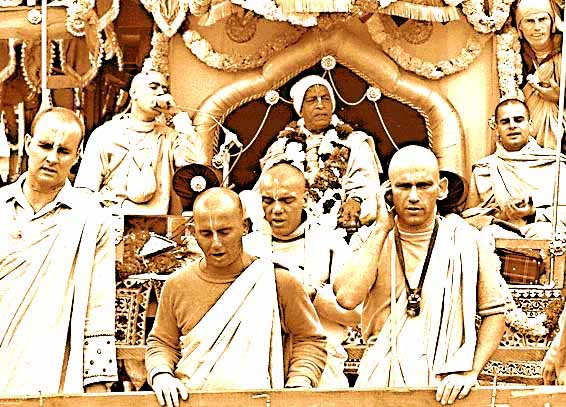 The swami moves from New York to San Francisco where he starts meeting drugged up hippies, and things really take off. He manages to make some of them believe that he can teach them pure God consciousness, and they really want that. So once he has the original 12, he gives them rules and regulations and constructs a cult.
He becomes the founder guru, gives himself god-like status, translates* scriptures (*makes them say whatever he feels is right, and disposes of points he doesn't feel are that important. Crucially he also writes his books with a complete disregard for the people he took his translations from, sometimes verbatim. Great.)
The guru has deeply misogynist attitudes, believes in marrying girls off before puberty (and it was practised in his movement – I personally know at least 3,) doesn't believe girls need to be educated, believes in everything from women being unclean during their period, people have never been to the moon. Best of all he believes in ignoring science and building a HUGE temple around Vedic cosmology. The guru basically believes himself to be infallible and if you're questioning him, you're demonised. So you don't. The construct becomes more and more intricate.
Of course he, and his followers later, was also quick to dump their lofty ideals when recruiting celebrities to the cause. George Harrison was one (John was a bit more switched on – let's have more Johns?), Russell Brand hangs out with a swami and ends shows with a rousing HARE KRISHNA. Ask Russell if his friend the Hare Krishna swami ever broached the subject of sex. Well no, it doesn't matter what he follows (whereas the rank-and-file member would be kicked out for having any sexual relationship not meant for producing Krishna Conscious babies,) as long as he shouts loud enough. Just SLIGHTLY hypocritical.
Basically, I don't understand how nobody ever looked at this stuff and said REALLY? HAHA THAT'S FUNNY. AND COMPLETELY RIDICULOUS. Really? Wear dhotis, basically a sheet around the legs, and a kurta shirt, which came to Bengali culture from the Mughals. (Vedic my arse.) And sarees for the girls, with the hair covered, another influence from Muslim culture. But – he said it was purer than Western dress, so we do it. The Hare Krishnas are even more ridiculous than literal Christians, because they REALLY believe they should follow these books to the letter. Here's what the books say about, oh, let's say how society should work. Basically, they want to bring the caste system back. HAHA REALLY?
This whole thing hasn't just died as the drugs wore off, with the rest of hippy culture.  It should have, but it is going strong, complete with its misogynistic views and medieval social constructs. It also fits nicely into the plans of Hindu supremacist politics in India. But that's another story.
I am still too angry to write sensibly about it because I was part of it, I was made to feel worthless because I was female. But I think that also gives me the right to speak up and point these things out. I know how lovely and PC we usually are about religions we don't understand, and that's a good thing. But I understand it, and I can tell you it's bad for you. (If you believe it's all far more balanced now, have a look through this email exchange of people trying to remove women from all positions of responsibility. In 1998.)
There are facebook groups for studying the founder's books, as if they were the key to self-realisation – well that's what he said they were, but nobody seems to question this. I've started asking loaded questions and posting controversial quotes. With some results, admittedly. But really? Arguing on the internet as a strategy? That can't be it.
The side benefits of going through this experience is that you fall for any bullshit – from neurobabble to pseudospiritual to lifecoaching to self-help. There just doesn't seem to be any ability to question anything. Biting sarcasm is my favourite thing right now.
Basically, I want to write like Mic Wright. Like this.