For a country that had revolutionised how most things were done just a generation ago, provincial East Germany was a remarkably ordered and conservative society. Everyone fit in, there was absolutely no tolerance for otherness.
There was the educational system that had been created from scratch in the fifties but which now was the indisputable norm. Ten years of school for everyone as standard, if you really wanted you could leave after eight, and if you were really good you could add two years to take your Abitur and go to university. In my class of about 25, two kids left after year eight, no one did Abitur. All went on to vocational training which would last on average two years. Normal was… well, normal. I knew very few people who did not follow the norm, before I moved to Berlin that is.
At age 16 I was offered two choices: to work in a lab in biomechanical engineering and one more thing that I can't remember. Nobody pushed me to go on to EOS and do my Abitur, even though I could have done with my notes. I was tired of school, but much more of the social aspects of it. I couldn't imagine trying to fit in with another set of classmates, because my current ones were hell.
School was strange, but then I was a strange child, precocious, easily bored, taller than everyone else, weird when there was absolutely no good thing about being weird, a nerd, having an extremely easy time with the school work but not figuring anything else out. The school system really suited me – class meant a teacher in front, all I had to do was pay attention and remember things. Easy. Predictably I was bullied but I did have some friends – mostly two girls who wanted to fuck with me as much as possible. Ah well.
I did fit into the class structure in terms of administration though. Every class had a team of leaders with different roles. There was someone who would sometimes stand in front of the class talking about news stories, the latest bad thing the West had done now and making sure everyone was ideologically on the same page. The name for this role (and I am not joking): Agitator (the same word in German, pronounced differently though.) Well done, East Germany. I didn't mind doing it, so I did it. Didn't exactly make me more popular.
I always had a feeling of being an outsider, sometimes because school was easier for me, but I never felt that I was better than the others. I mostly thought everyone else knew what they were doing. My older sister had a boyfriend by the time she was 13, was part of a circle of friends, was outgoing and had a busy social life, and I just figured I'll never be able to do any of that. I don't know if I wanted to but that didn't seem to matter. I didn't even try. I read and, with school, went to dance classes – the first physical activity I absolutely loved and was good at, after failing at every other sport – discovered music, I went to arts classes. I also was the only kid my year who, from year 7, did all the foreign languages I was offered, so I must have been busy.
I still feel like I spent a lot of time with my own thoughts. The things that really interested me I couldn't share with anyone. There were no fandoms for what I was interested in – and I had some massively weird obsessions, with France, for a while, with Friedrich Schiller, and then came boys. The last two overlapped so one of my first crushes was a guy with a similar nose and profile to Friedrich Schiller.
Nobody ever knew about that. I didn't end up doing anything about my crushes, after that first attempt at having a boyfriend where we actually exchanged some letters (swoon!). After that, nobody knew what I read or did. And anyways, those stupid boys, they knew nothing – I started spending time with students from much more interesting places. At home, my sister was making life difficult for my mother. I kept everything to myself and didn't make any more trouble. My mother thought I was going to art classes and would have been quite scandalised, because I was still only 14.
So when the time came to think about the future, Herr Romeike, husband of a friend and colleague of my mum's, who was somehow influential, did something very rare for a grown-up man at the time and sat down and had a conversation with me about my career.
I think remember this so clearly because I didn't have a lot of men in my life. My father was gone by the time I was five. I had a sister and a mum and a grandmother. I also had uncles but none of them were close. I had male teachers but they kept their distance. I somehow had an awareness that I needed a grown up to talk to but when I started going to electronics club and tried to talk to that teacher about something that was going on with me, he very quickly shut me down. So I was back to not talking.
I had an Uncle Werner who I loved very much but didn't see very often. He lived in Munster, which is West Germany, and my mum was a teacher so couldn't officially see her Western relatives at home. We only ever met at my nan's. That uncle was a typesetter, and I think that's what made up my mind. So I chose to join the print industry as a typesetter with the specialisation proofreader. Germany being the birthplace of movable type print, all the different printing roles – maybe apart from reprographer – still came with sentimental ideas of what it's like to make books, or, you know, printed items.
After I finished school at age 17, I had three months off of which I remember absolutely nothing – I think I might have gone to Czechoslovakia? -, and then immediately went on to my vocational training. Which meant spending a year in Berlin. The accommodation was on Strasse der Pariser Kommune, exactly between the headquarters of the publishing house Neues Deutschland, the parent of our school and, I think, the central organ of all East German newspapers, and Ostbahnhof, which that same year, 1987, was being rebranded Hauptbahnhof (it isn't the same Hauptbahnhof Berlin has now, just to add to the confusion.)
Again considering that the educational system had only been created decades ago, it worked seamlessly. Because all companies were owned by the state, there was no issue with one paying for accommodation and training for 'Lehrlinge' (apprentices) that would end up working at other news printers all around the country. They all printed the same party messages, so it probably didn't matter anyway.
As apprentices, we earned about 180 marks a month. Because we didn't pay for anything vital, that was plenty and we went around Berlin having ice cream sundaes at all the relevant places. Especially Cafe Moskva on the nearby Karl Marx Allee.
Our accommodation had organised us depending on hometown, so I shared with two other girls from Rostock. We were all similar and became good friends. (We were also all, what you would now call, geeks, not like all the other girls, etc etc.) There was another Anke in my room, who stressed a lot about getting everything done, and Susie who was calm and funny, and me with my Che Guevara wall over my desk.
The rooms were nice. Some of them had bunk beds but ours didn't, so each of us had a bed and a desk. The wall over the desks, considerately, had a bit of woven wall hanging over them that we could fasten posters to without hurting the wallpaper. Mine was full of Che.
The only thing our accommodation was missing was good laundry facilities, and that meant taking the train home every weekend, then every other weekend. It took about three hours and it was nice. By the end of November I had a boyfriend and sometimes went home with him instead, taking a train south rather than north.
Our way to the school took us past Alexanderplatz every day. There was a lot of public transport but no good way to get from here to there so we walked, it took about forty minutes. The school was an old, dark brick building with massive walls – needed for the amount of printing machinery it contained. It still stands now but it's offices.
In the school, there were five groups of apprentices: typesetters, book binders, reprographers, printers, and I forget the fifth. Days were mixed practice and theory. Every group learned a bit of everything, from how paper is made to German spelling to calligraphy to print layouts. For us, practice meant standing at the type box and learning to set type the old fashioned way. It was hard and it was dirty and you had the romanticism drilled out of you in about a day. The rest of the time you forgot how horrible it was by talking about the meaning of life with your desk neighbour because there was nothing else to do.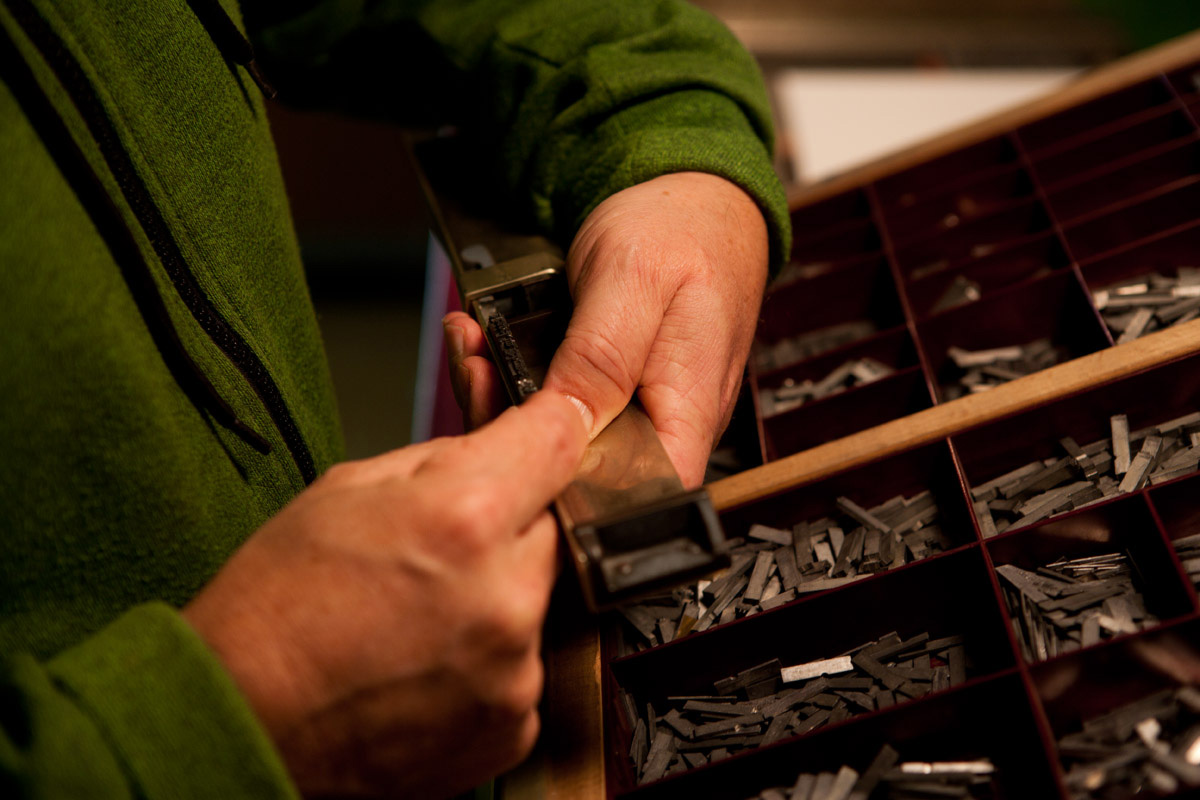 I was tall and lanky and not very strong when I grew up, so standing up for eight hours a day and doing work I was not great at was hard and actually quite horrible. But there was no thought of giving up. The fact that school had been easy for me, but here in the German spelling tests I mostly got average grades, didn't help. We had homework too. I'd never been great with homework, and now, having to manage my own time? In Berlin? Hah.
Berlin though! It was an entirely different world from the province where I'd grown up. People wore their hair differently, talked about different things, it was a melting place of culture and full of people starting bands. I was still going to discos with school mates most weekends – but it bothered me how they couldn't have fun without getting drunk. I met my first boyfriend in one of those places.
A kid from my school (a reprographer), Björn, from another province, he made me listen to Gary Moore and I loved it – that ended after a month, by telegram on new years eve, which was fine. Well, it wasn't, I didn't get emotionally involved after that, but I got over it quickly. After that I started hanging more with people from Berlin. Sven's parents had a house and a boat by a lake and we talked all night. Falk was a couple years older and managed a hard rock band called Fate. And made me listen to Keith Jarrett, at night, in the dark. I loved it. Jean played guitar to me and talked to me about emotions (this was a new experience when you come from a place where people don't talk.) He made me listen to Pink Floyd in a flat in Berlin. I loved it.
I had a great book about Berlin and walked around on my own a lot, just like I had back home, at my nan's by the sea, where my mum had parked me when she had to work during my holidays. Looking and thinking and absorbing it all. Sometimes being so deep in thought that one day I got too close to the warning signs near the Wall and got picked up by the border guards who demanded to see my ID, which I didn't carry, so had to spend the night in a cell before being bailed out by some authority from my accommodation.
Another day me and my roommates were out for some ice cream, sat in a cafe when a guy joined us. I have no idea who he was but I remember him asking searching questions and me, having been softened up by all the things that had happened recently, just going deeper and deeper when my friends had already exited the conversation.
You know when you are feeling quite sure who you are and what you are doing – well I was quite far from that before this night, and a lot further away from it after. I never saw this person again even though we agreed to meet up a couple of days later. Nobody had phone numbers back then, of course.
During that year I somehow managed to join a dance troupe as well. There was a live band, playing folk songs from around the world, and the dancers, who showed the audience how to dance to it, with a caller, square dance style. I think it was really popular. We did a lot of gigs in Berlin and, I think during the summer at the end of my first year, travelled to Prague and danced for our supper on the Charles Bridge. It was actually quite amazing. Somehow I still managed to be deep in thought and far removed from it all, most of the time when I wasn't actually dancing.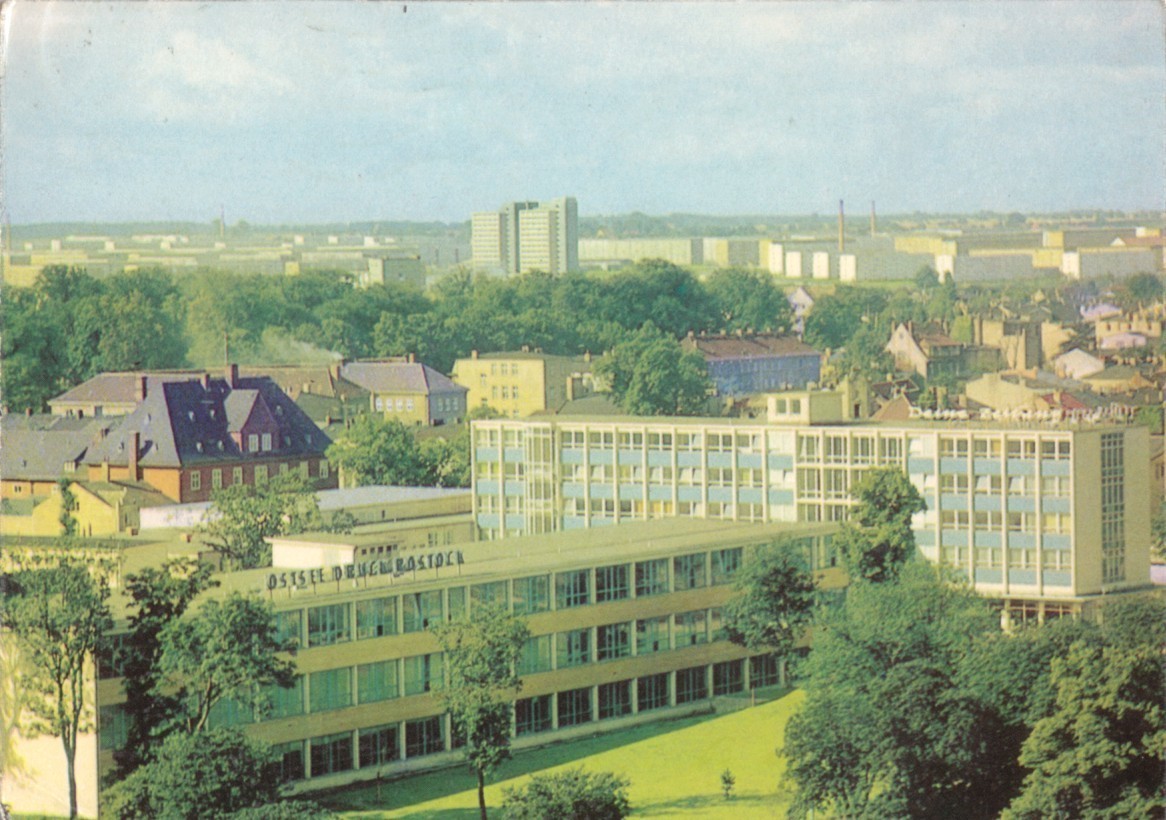 I still felt pretty lost when the second year of my apprenticeship came. This meant going back to my nice, ordered, provincial hometown and fitting back into a society where, to me, nobody talked about anything that mattered. I was now training for my specialisation – which meant spending eight hours a day in a glass box with five women who really all cared very much about their homes, husbands and children and were perfectly normal, thank you very much.
In hindsight I was being ridiculously stupid – my hometown had a university, all I had to do was choose to hang out with the students and I would have been fine. Or even just in a different part of town than the one I grew up in. But being 18 doesn't exactly mean being sensible. So I dug my heels in, claimed this whole town and all its people are all stupid, read Schopenhauer and switched off from the world some more. Well, I say read Schopenhauer – was given something mildly inconsequential from the university to work on, probably a dissertation on Schopenhauer, so I read instead of proofread. Still massively more interesting than the conversations in the office.
I had started going out with the long-haired guy from next door, the typesetting type. Jens made me listen to David Bowie and bought a self-resetting record player just to listen to My Sweet Lord on loop. He was the guy I never actually had a proper conversation with while we were together but who ended up being both one of the main factors in me joining the Hare Krishnas, and the one person to care enough to write me letters and try to make me see sense when I already lived in one of their communities.
During my year back home Jens had been drafted into the army. When the year back home ended, I took a summer job on Rügen, the island where he had been stationed now, or rather where he was in hospital since he really didn't want to join the army so had made himself sick. At the end of that summer, I moved back to Berlin, where a friend let me have their flat that they rented from the university there for 10 marks a month. I started my first proper job, typesetting in a newspaper again, at the time when journalists delivered their material typed but it then had to be typed again. This meant I was learning, again, doing things I wasn't very good at. A month later, in October, I broke my ankle while getting off an S-Bahn train, hobbled back home to mum's with my leg in a cast, and three weeks later – I was still at home in Rostock -, it was the 9th November 1989.